Episode 02: Lax, Power Blocks, and Online Remote Coaching with Tex McQuilkin
by TeamBuildr, on Sep 2, 2020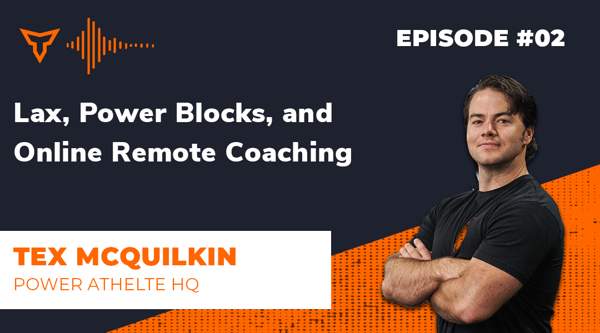 Tex McQuilkin is the Director of Training and Education at Power Athlete HQ. Power Athlete is programming service that is geared toward delivering goal-oriented performance or in other words "strength and conditioning made simple and real-world ready." They offer certifications, nutrition plans, coaching seminars, and more. We were excited to get the opportunity to sit down with Tex and talk all things lacrosse, his favorite piece of equipment, and having a side hustle.
Tex has been coaching and training athletes for 12 years now after his 4 year stint playing Division III lacrosse at Marymount University. He started his career of coaching strength and conditioning when he was an assistant coach at his alma mater and then he eventually moved on to coach at Georgetown University, The University of Texas at Austin, and St. Albans School in DC. More recently he has taught at over 100 strength and conditioning seminars spanning over 6 continents and 16 countries, and has had the success of creating Power Athlete Academy and the Power Athlete Podcast.
From Katy, Texas outside of Houston, Tex grew up playing at a powerhouse football high school (Fun Fact: Andy Dalton went there) until he decided to focus more on lacrosse. But it was in his high school weight room where he started to realize that what his coach was having him and his teammates do, was not transferring to their performance onto the field.
I remember, one kid got injured, I forget what the injury was, but it was through deadlifting and he injured his back. He could never play football again. Deadlifting was then struck from our programming, so I didn't deadlift until after college. One kid getting hurt changed the effectiveness of the whole program, which was not the case -- it was poor movement, poor setup or coaching or maybe the kid was tired that day but it led to a change in a ripple effect.
Tex tells us how having a negative experience can force you into a position to really dive deep to understand movement and how to transfer training sport, especially for injury prevention. That negative experience lead to him coming the realization of what the impact and the power that a coach can have towards their athletes.

Some would agree that Lacrosse is a game of finesse, beauty, and athleticism. And one of those people is Tex McQuilkin. He fully believe that lacrosse is going to be one of the major sports in the US, and we have to agree with him. Hear Tex go on about how the Rabil Brothers are starting to change the way the game is played and viewed with the PLL.
Finally after all of the lax talk and learning about how Tex got involve with Power Athlete he tells us where he sees the future of recruiting, coaching, and training -- all online.
"I do want to add that we should be encouraging all of the athletes, especially if you're working with high schoolers, to film and record all of their movements, all of their lists and catalogue it. This is going to be the next and I feel the future of sport recruiting."
Tex was a great guest to have on our second episode of The TeamBuildr Podcast. The guy has some great insight into everything lax and strength and conditioning and the guy sure can talk, but then again so can we.
Subscribe: Spotify | Apple | Stitcher