Episode 05: Building a 100% Online Strength & Conditioning Business with Jerred Moon
by TeamBuildr, on Sep 30, 2020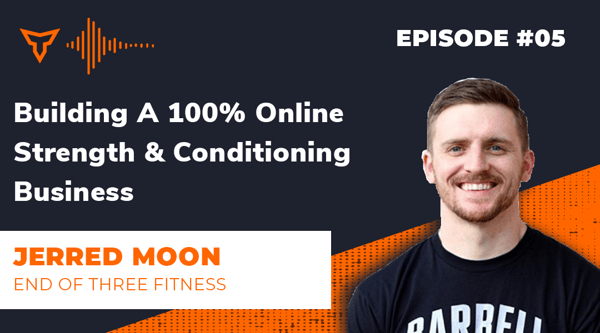 We have made it to Episode 5 with The TeamBuildr Podcast and we are happy to introduce Jerred Moon on with us. Jerred is the founder and CEO of End of Three Fitness and Garage Gym Athlete which are both 100% online programs of educating coaches and training athletes, so he's basically ahead of the curve here. He has been training athletes for 15 years, has written two books, and is a proud five year vet of #TeamBuildrNation.
In this episode we talk to Jerred about how he started End of Three Fitness, the importance of pricing your online programs, and how he attributes his morning routine to building his business.
Garage Gym Athlete came out of fruition from his own needs of being super into fitness, getting called into active duty in the Air Force, and not having the time to train in a gym. Want to take a guess where he decided to train? At first it was about helping people build their own garage gym and then he decided to go all in and creating a company out of it. If you're looking to build your own garage gym here is some advice from Jerred...
I like a lot of space in my garage so I try to put things around the perimeter but the basics of what you need; Barbells and plates, a pull up bar, maybe a kettlebell and then a pretty solid rack of some sort and that's about all you need to get a lot of effective and efficient training done.
Jerred is a man on a mission and we don't think he's slowing down anytime soon as he's only focused on his family, his work, and of course working out. With the help of his solid morning routine and TeamBuildr, he has been able to create an awesome online business and write a couple books along the way.

One of the big take aways from this episode with Jerred is that even though he is able to charge his Garage Gym athletes an affordable monthly fee, coaches shouldn't be afraid to charge a premium for their service.
So I think charging a premium is something that you shouldn't be scared of doing. But if you want to go down the membership route that we have, just know that it takes a lot. And it's a very, very difficult and challenging business model.
Alright folks, get ready for a shameful plug here because it's definitely not a coincidence that we brought on Jerred Moon to our podcast around the same time we are rolling out our new and improved Online Payments Portal. Jerred has been using our Online Payments Portal for a few years now to sell and deliver his Garage Gym programming to athletes as well as receive payments all through the software and says nothing comes close to comparing (so obvi we'll agree with him).
Jerred a minimalist at heart. He takes that into account when building his programs. He's got a great sense of building community online and we really get into the nuts and bolts here running an online business. We hope you enjoy and be sure to listen and subscribe!
Find Us Here: iHeart | PodBean | Google | Spotify | Apple | Stitcher