Episode 06: Feeding The Cats & Technology in the Weight Room with Deerick Smith
by TeamBuildr, on Oct 7, 2020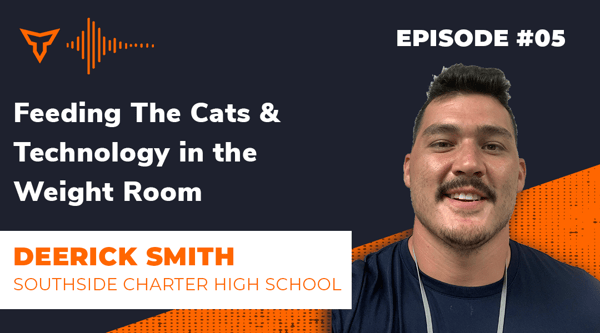 Welcome back to another week of The TeamBuildr Podcast and this week our guest is Deerick Smith, a man brave enough to wear tie-dye. Deerick is the Director of Strength and Conditioning and Assistant Football Coach at Southside Charter High School in Arkansas. He is a football coach turned strength coach, is currently getting his masters degree, managing a side hustle, training all of high school athletes, and he still finds time to answer *some* of his DM's on Twitter.
In this episode we get to talk about how Deerick is integrating his weight room with all sorts of technology. They recently purchased a new timing system for speed development, they already use TeamBuildr, and the kids will soon be getting Apple Watches and iPads (can I go there?). We also talk about his new methods of speed training which include 'Feeding The Cats' and the 'Tribe Test' from the coaches at William & Mary.
It's kind of like, it's kinda like a scarcity mindset, you're only going to get these two.

It gets the kids to give everything they have, rather than having to get it out of them. They're willing to give everything they have on those two reps versus as an old school coach, you may have had to grind them into the ground. You're getting everything out of them when in all reality, they're probably holding back.
When he's not at the school or coaching from the sidelines, he's managing his side hustle of Smith Performance which started all from Twitter. He programs for other schools from Arkansas to West Virginia all through TeamBuildr. So if you're interested in how he does it or if you want his services, you can check him out on Twitter - he's trying to respond to everyone!

Deerick has been coaching for 7 years and has coached 4 NSCA All-Americans, has been apart of 4 conference champion football teams in 7 years and has won District championship as head softball coach in 2014. He says his unique skill set is being able to responsibly relate to the athletes of today by not being so serious and he extremely passionate about coaching all sports, not just football.
I get more hype when one of our girls does their first unassisted chin-up than I do when one of our guys squats 500 pounds. It's important to boost them up and hype them up to build confidence.
He has a great accent, he's a funny guy, and more importantly he loves coaching strength and conditioning so listen and subscribe!
Find Us Here: iHeart | PodBean | Google | Spotify | Apple | Stitcher