Episode 09: "I'm Not Done Yet." Life Beyond Being a Strength Coach with Rachel Balkovec
by TeamBuildr, on Nov 4, 2020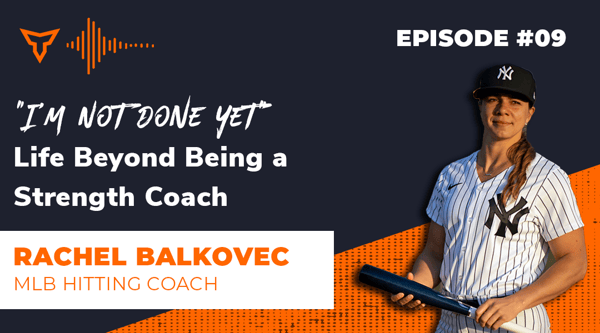 Thanks for joining us for another week of The TeamBuildr Podcast. Our guest this week is no stranger to us here at TeamBuildr and we are always so honored to chat with her. Rachel Balkovec, the first woman strength and conditioning coach in the MLB. Rachel has had stints with the St. Louis Cardinals, the Houston Astros, and is currently a hitting coach with the New York Yankees. While she has already made history and headlines in the industry, Rachel Balkovec will tell you that she is not done yet.
In this episode we talk to Rachel about how she got interested in wanting to work in baseball, why she changed her name on her resume when applying to jobs, and what she means when she says "I'm Not Done Yet."
There's more for me. I'm not just going to be a hitting coach. There's gonna be another time where people are shocked again, at something I'm hired for. You're not gonna be shocked. I'm not gonna be shocked. There's plenty of things left to do. For me personally, but also for the game and for the industry and for women.
From her time playing softball in college, to working with teams at LSU, to working with athletes in the DR, to going back to school multiple times, Rachel is continuing her journey as what she calls her calling. And we have to say that we're thankful she dated that one dude in college who went into the minors, this episode might not have even happened 😨.
She is an inspiration to many and so awesome to talk to and follow on instagram so we hope you enjoy as much as we did. Be sure to listen and subscribe!
Find Us Here: iHeart | PodBean | Google | Spotify | Apple | Stitcher