Episode #13: Activism, the NFL and Online Training with Media Maestro Craig Hoffman
by TeamBuildr, on Dec 16, 2020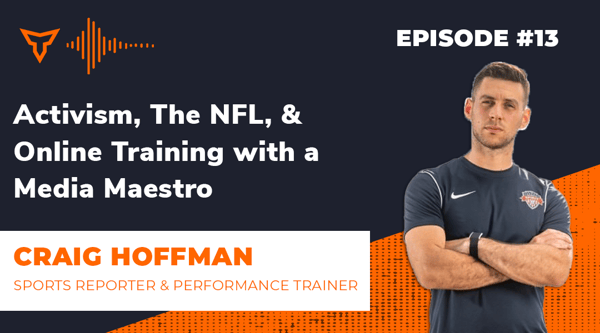 The TeamBuildr Podcast welcomes Craig Hoffman, a Sports Media veteran of nearly a decade for Episode 13. Craig's sports coverage runs the gamut - from reporting on the NFL and NBA, to his current role producing content for the Washington Spirit soccer team in the NWSL. His unique combination of experiences as a sports beat reporter, radio host, on-air personality, and strength coach side hustler make for an incredible guest.
Craig has been outspoken on his frustrations with racial justice amidst the social unrest this summer, and has used his media background to further the cause through storytelling, with a collective called "Humans, Not Hashtags." He goes on to offer a unique perspective on the podcast about former NFL player Colin Kaepernick, whose kneeling took place while he was an NFL reporter.
"You know what happened on just the social side of things with Trayvon Martin and Ferguson, I was really, I was coming of age as a human. I was 23-24 years old as those things are happening. And really tried to dive in and learn and talk to people and have real frank conversations about what social justice and what justice really means in America."
Also on this episode, Craig brings an insider level of professionalism to NFL talk, speaks of the media pressures associated with players and coaches in the league, and like many, wishes we got more out of Bill Belicheck at press conferences.
We hope you enjoy your time with Craig as much as we did, and encourage you to check out his website here (http://www.hoffmanshow.com). Listen and subscribe to the show to make sure you catch us next time.
Find Us Here: iHeart | PodBean | Google | Spotify | Apple | Stitcher