Episode #19: From D1 to the Military, Talking Tactical Strength & Conditioning with Shelton Stevens
by TeamBuildr, on Feb 24, 2021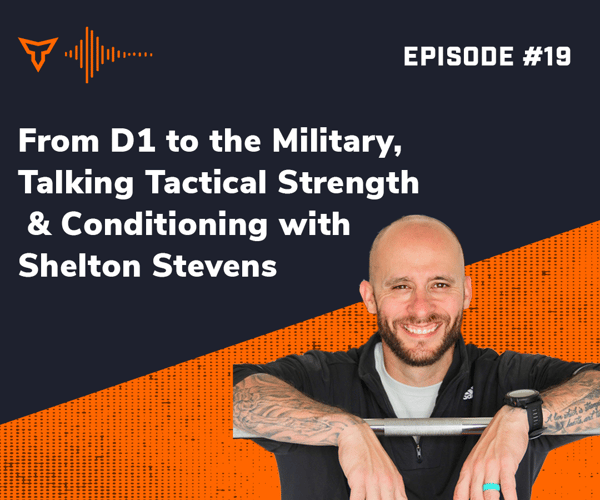 On this week's TeamBuildr Podcast, we are proud to be joined by Strength Coach Shelton Stevens. Shelton is entering his third year as a Human Performance Specialist at US Special Operations Command, where he is a strength coach for elite tactical soldiers in the military. Before making the jump to tactical, he coached at college strength programs for over 10 years, most recently as Director of S&C at Liberty University. Shelton is also a business owner, and runs an online tactical training business.
In this episode, we explore the growing world of tactical strength training. With Shelton entering his third year in the tactical space he has found many areas of the job that beat his time working at college programs. He feels there is a higher level of professionalism as he regularly presents to enlisted leaders and officers alike to ensure strength program buy-in. Organizationally, his role is joined at the hip with physical therapists, nutritionists, chiropractors and doctors who work closely together on a team, and not independently like he frequently saw in college.
He enjoys coaching the tactical soldiers, finding them to be mature professionals that test him regularly with workout and nutrition questions. And to top it all off, he is working less hours than he did in college. This extra time has been put to good use building new business skills like website design to grow his online training business, 13 Bar Performance, which offers periodized workout programs for tactical athletes and is used in nearly 70 countries.
Shelton has seen job prospects for strength coaches in the military grow tremendously, where college strength coach experience is highly valued. For coaches interested in the tactical space, Shelton acknowledges he would not be where he is today without his college experience, which he leans on daily while coaching on the floor.
"The more floor experience, the more athletes, the more sports that you can get your hands on and coach, that's what's going to help you in the long run"
We hope you find this foray into the tactical space as exciting as we did, Shelton was an awesome guest. Be sure to like and subscribe to catch us next time!
Find Us Here: iHeart | PodBean | Google | Spotify | Apple | Stitcher