Episode #21: Empowering the High School Strength Coach with Gary Schofield
by TeamBuildr, on Jun 8, 2021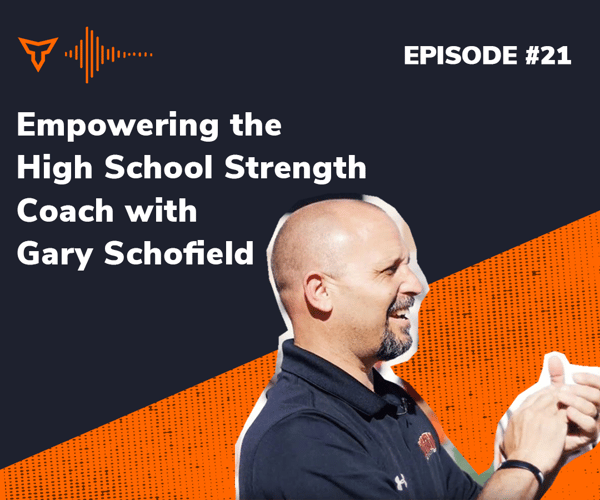 Our good friend Gary Schofield joins the podcast to talk about all things High School strength. Gary is a highly regarded speaker in the S&C industry, and was one of the founding fathers of the National High School Strength Coaches Association (NHSSCA). Coach Scho has 20 years experience coaching High School S&C and shares his wisdom as a consultant for High School strength programs all around the country. He currently serves as the Director of Youth and High School Development at PLAE, where he recently implemented an education and mentorship program for High School Strength Coaches.
Much of our conversation focused on the NHSSCA. The organization was formed by Gary and others to serve Strength Coaches specifically in the High School realm, a large component of the S&C industry with unique needs. In the 5 years since its inception, the NHSSCA has cultivated a national presence, yet still maintains its family feel and culture of positivity.
"We've created, I believe, a positive culture of connectivity amongst coaches. It's where people are unafraid to say they don't know something. Where people are unafraid to share where they failed"
Gary speaks passionately about the power High School strength coaches have when they band together, how they can structurally change the status quo and what the NHSSCA is doing to better the profession at the High School level.
Gary also shares what he has been up to in his role at PLAE, where he recently helped launch PlaeAcademy.com. The site is an online education platform that gives coaches professional content and personal connections. One of the site's flagship programs is a 20 week High School Coach and Mentorship program where currently more than 80 coaches watch on demand videos, then meet with mentors and fellow students in small groups to interact and discuss learnings together.
Gary is an impact player in the space and we were grateful to have him on. We look forward to seeing him at this summer's NHSSCA conference, and hope to see you there too!
Find Us Here: iHeart | PodBean | Google | Spotify | Apple | Stitcher