Episode #24: Producing a Powerful P.E. Program and Coaching High School Strength with Military Veteran Amanda Berg
by TeamBuildr, on Sep 7, 2021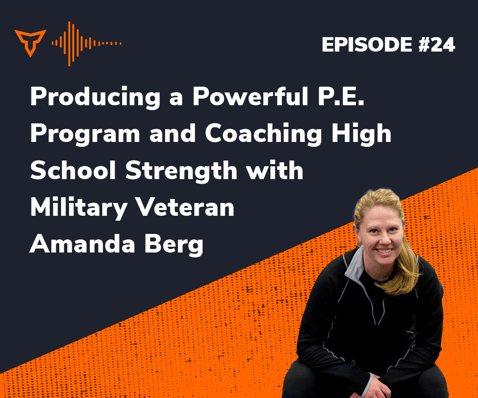 Good friend Amanda Berg joins us on this edition of the TeamBuildr Podcast. Amanda has been a High School teacher, Physical Education Department Head and strength coach in Minnesota for over 15 years. She served overseas in Iraq with the Army National Guard, and is a huge fan of the NHSSCA.
Don't let her mild-mannered Mid-Western demeanor fool you, Amanda Berg means business! She has built up a robust Physical Education department in her high school tenure, headlined by a Triathlon class where 50 of her students completed an Olympic Tri this year. Her department also has classes on refereeing and self defense, and offers special programs where students can earn varsity letters. Her school recently installed a new weight room that she has made the cornerstone of both her P.E. and S&C departments alike. She has worked with her colleagues to instill a culture where the weight room is not exclusively for the school's varsity athletes, but instead an inclusive environment for athletes and general students alike.
"Yeah, it's our philosophy right in the weight room. It says you belong here. That's really what it is. You belong here. You should be here. If you're here, you'll be welcome. No matter what."
Amanda also discusses how her military service directly prepared her to jump into the S&C space and how it influences her programming now, how the community and camaraderie at the NHSSCA conferences are unmatched, and how important it is to recognize female strength coaches in the industry whose stories typically go unheard.
Amanda is not just a great guest and coach, but also a TeamBuildr Podcast listener who reached out to be on the show! If you or someone you know would make for an awesome guest, give us a shout by emailing hewitt@teambuildr.com .
Find Us Here: iHeart | PodBean | Google | Spotify | Apple | Stitcher