Episode #25: Navigating the Role of a Young Strength Coach for USA Beach Volleyball with Christian Hartford
by TeamBuildr, on Sep 13, 2021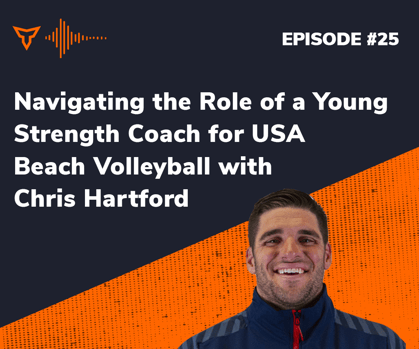 In this episode of the TeamBuildr podcast, we are catching up with Christian Hartford--current athletic performance coach for USA men's and women's beach volleyball teams. Prior to USA Volleyball, Christian acted as the Director of S&C for the St. James Health Club in Springfield, VA. He also has past experience as the S&C coach for University of Maryland's women's indoor volleyball, women's lacrosse, and women's gymnastics.
Christian joins us fresh after the Olympics to fill us in on his experience and success in Tokyo - especially after the thrill of watching one of his own teams bring home gold medals. As an Olympic coach during COVID, Christian recounts how he kept his athletes motivated to "stay ready, so [they] don't have to get ready." He also reflects on how much of a blessing it is to learn from his own athletes. Christian works with athletes older than him who juggle parenting and competition.
"They're motivating me to work a hell of a lot harder than anyone else because I see what they do on the daily... It's so inspirational to work with these athletes, because they're doing what 1% of the world may do, but maybe less than 1%, you know, so it's really cool working with athletes that age."
As a new father himself, Christian takes note of his athletes' dedication to their sport and kids. Balancing marriage and family with a career is another factor many people forget when watching these athletes on screen. Christian talks about his own experience navigating the role of being both a father and coach. He expands on how he is able to implement the lessons he's learned from coaching to parenting and vice versa.
Find Us Here: iHeart | PodBean | Google | Spotify | Apple | Stitcher